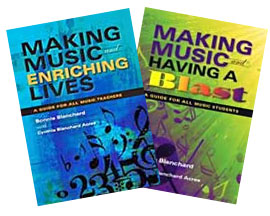 Music for Life Books
About Music for Life
Me? An author? Well, I never started out intending to be one. But then I found myself collecting so many pearls of wisdom, so many innovative ideas and so many humorous stories, I just had to do something with them!
My Life as an Author
How it all Began
It all started when I was asked to be on a pedagogy panel at the National Flute Association convention several years ago. I was excited to share my passion for teaching and my ideas with the NFA members. In preparation I practiced my speech and showed my friend Karen Iglitzin my many handouts. When she heard the speech and saw the stack of papers I was bringing she said, "This isn't just a short speech and some handouts; this is a book!" So it's all Karen's fault. Nine years and many, many hours on the computer later I'm the proud author of two books.
Meet my Collaborators
At the top of the list is my sister, Cynthia Acree. Day by day, step by step, she brought more life, organization, creativity and knowledge to these pages. Without her, neither of the two Music for Life books would exist. Cindy is the author of The Gulf Between Us: Love and Terror in Desert Storm and is a writing coach. I'm so glad she was mine. And how great is it that we're sisters, and we still get along!
My friends Mary Kay Wilson (my students' accompanist) and Melinda Bargreen (composer and former music critic for the Seattle Times) were also such a big help making sure my spelling and grammar were correct and that I didn't say anything really lame.
I had extra help in Making Music and Having a Blast! My flute students Simon Berry and Lydia Walsh, two bright, brutally honest 16-year-olds told me their opinions of every page. They often hit the delete key—especially after reading my so-called "dumb" jokes. I finally let them write their own chapter, which I got to edit. Payback time!
Simon and Lydia are not the only student authors of this book. We interviewed many student musicians from 9-year-olds just starting out to high school students trying to fit practice into their busy lives, students graduating from conservatory and those who have chosen a different life path but sill treasure their student musician days. Their honest and heartfelt ideas and solutions make this book a treasure.
What I Learned Along the Way
In writing these books, I read everything I could find on teaching, playing music, and even business and employee-management skills. I talked to other teachers to hear their problems and their solutions to find out what they need and what works.
I even spent hours talking to my husband Don about his management philosophy as a construction manager at the University of Washington. Don is a great mentor because he is a great boss. He gives his employees the skills and the autonomy to succeed. Don's employees feel liked and supported and will try their best to do a good job because of the atmosphere he has created.
What have I learned?
First, that teaching is more about managing and inspiring people than distilling information. If students feel challenged and supported, they will prosper.
Second, that to be a good teacher is to always keep learning. Innovation keeps our students and us excited and looking toward the future. No matter how long you've taught or how great a teacher you are, there's still more to learn.
Third, no teacher is perfect and not every student wants to learn. No matter how much the teacher or parents work, if the student is not vested in the process, it just won't happen.
Fourth, opening up the world of music to our children and to our students is the most wonderful gift we can ever give them!
Fifth, writing books is hard work! And bringing them to the attention of the world is even harder! So thank you for reading and for your interest!
The Results!
It has been so gratifying hearing from teachers and students about what both books have meant to them.
One elderly man who had taught piano his whole life told me, "After reading your book, I realized that I could be friends with my students!" Another teacher confided," I've always had a high turnover rate but using the ideas in book one made my students more excited to learn and for the first time two of them made All-State, and no one quit this year!" Many other teachers have said they put the books on their bedside table and read a little every night while using a marker pen to circle ideas to try the next week.
Book two has been a help to both students and teachers. A few weeks after Making Music and Having a Blast! came out, I exclaimed to my sister and co-author Cindy, "This is the book I've been waiting for!" I realized I sounded like an advertisement. All my students purchased the book, and I give reading assignments—sometimes to an individual who is having trouble with something such as dealing with stage fright or boredom in band, and sometimes class assignments where everyone in the studio reads a chapter on musicality, theory, music history, or how to practice, and we talk about it at the lesson. It saves so much lesson time re-inventing the wheel!
Students have told me the book has been a real help to them. "I thought I was the only one who had stage fright!" "I was practicing an hour a day and getting nowhere, but now I know how to get more done in less time." And everyone loves all the true-life stories in both books.
I've only had one person tell me she wasn't thrilled about the books. "There are so many ideas in the books I just don't know where to start!" she complained.
Well, I can deal with a complaint like that!