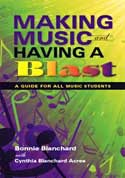 Music for Life Books
Making Music
and Having a Blast
Recently showcased among the "Best of the Best of the University Presses" at 2010 American Library Association Annual Conference, this is a book designed specifically for music students—and for their parents and teachers who want to help them succeed.
It's bursting with great advice, essential music theory and inspiring stories. Read on below for a quick tour of its contents and a chapter excerpt.
Learn more about this book:
Overview
In a recent U.S. Gallup Poll, 82% of people who didn't play an instrument wished they had learned to play one. Yet it's no secret that many students, initially excited and enthused, quit in frustration only months later. Making Music and Having A Blast! speaks directly to a wide range of students of all instruments and offers imaginative solutions they can easily apply at every stage of learning.
A 12-year-old beginning student might purchase the book for ideas on how to buy a good instrument, find a great teacher, and learn how to make practice sessions more effective and shorter. As an experienced 14-year-old player, the student can look to the book again, but this time for advice on how to win solo auditions, be the student of every teacher's dreams, and avoid "practice wars" with parents. As an advanced 17-year-old high school player, our music student can once again find the answers he needs on how to pick a college or conservatory and increase odds of winning a scholarship. As a 20-something, soon-to-be college graduate, our developing student can once again pull out the trusty guide purchased years earlier to find advice on the pros and cons of pursuing a professional music career.
Music students of all ages will know they're not struggling alone when they read insights from music students and answers to their most thorny questions. This warm-hearted and witty guide offers emerging and experienced young musicians the guidance they need to play skillfully, achieve their goals, and stayed hooked on music for a lifetime.
How to Use this Book
Making Music and Having a Blast is divided into 10 sections. Read the book straight through or skip to chapters you're most interested in. (See below for a Quick Tour of the book.) Each chapter targets specific topics and is full of ideas you can use right away—whether you are the student or the teacher!
Students (and their parents) can purchase this guide to make sure they start their musical education on the right foundation, and they can turn to it again and again for extra insight and coaching whenever they're frustrated or confused.
Teachers can consult it for valuable insights from real students and their families. And they can have their students buy the book and read it as needed or as assigned.
Throughout the book, I've also included first-hand accounts of experiences from students who have had their own share of struggles and triumphs.
When you're done reading, hang on to this book! In a few months, you might find yourself heading to a new chapter!
Who Should Buy this Book?
Student musicians in all stages of their career from beginners to those thinking of becoming professional musicians
Parents of students who hope to help and advise their children
Private teachers looking for ways to communicate and motivate
Band, orchestra, and choir teachers who want ideas for their classes and a handy resource for their students
College professors seeking answers for their own students and for teaching ideas in their pedagogy classes
YOU!
Press Reviews

Making Music And Having A Blast
Written by Alexa Still
To tell the truth, I had a hard time getting "into" this book…. but somewhere around the end of Part One, I was hooked. Having relished every chapter towards the end, I want to be sure to explain why you should buy this book and stick it out too: it is a fabulous source of information to answer EVERY imaginable concern or query that a music student (or their parent) may have, and there isn't the slightest whiff of condescension throughout.
Bonnie's cheerful and conversational writing style, geared perhaps most to high schoolers, takes some getting used to but is an essential element to this book's success. The stories about Bonnie and the many students quoted throughout are comfortingly normal and very real. Everyone, regardless of background, will relate very easily to every invaluable point she makes.
I'm just a bit sad that Bonnie didn't write this back in the dark ages when I was a kid…. I needed this book and I know I would have adored it.
Now, my enthusiasm is as strong; this is a resource I can readily refer to. "Making Music and Having a Blast" is an exceptionally well-organized presentation of terrific summaries, analogies and explanations of concepts that are perfectly suited to less advanced students through to non-musicians.
This is a book that I can enthusiastically demand of parents who don't have the benefit of a musical background; they'll enjoy reading it and will be extremely grateful for the insight this book provides.
Alexa Still records for Koch International Classics and performs concerts internationally. She has just finished an elected term as Chair of the Board of Directors for the National Flute Association (USA) and is now based in Sydney as Head of Flute and Chair of Woodwind at the Sydney Conservatorium of Music. You can read, see and hear much more at her website: www.alexastill.com
From "Clarion," April 2010
A publication of Washington State Music Teachers Association

By Marlene Haney, NCTM
This month's review is dedicated not to music, but to a wonderful resource for students and teachers alike, written by one of our own—Bonnie Blanchard with her sister Cindy Acree. This book is the second installment in her Music for Life series. It matters not if you are a pianist, a vocalist or a member of any other discipline, there is practical information for everyone and every situation. In addition to the author's wealth of insights, contributions were given from many students so that teachers, parents, and other students can hear real life stories about what works and doesn't work.
One of the chapter headings is "Getting Off To a Good Start" which includes a discussion of top mistakes new musicians make. Other headings are "Getting the Most From Your Lessons,, "Using Practice Tips for Faster Results," Solving the Mystery of Music Theory," "Performing with Confidence," and "Avoiding Stumbling Blocks along the Way."
Each chapter has a summation highlighting the key points with a sneak preview of the next chapter. Bonnie's style of writing reflects her enthusiasm for music and is seasoned with witty comments that make this very approachable for middle and high school students. She has all of her students use this book as a companion to other teaching materials. She assigns various chapters to be read as needed which can then be used as a format for discussion during group lessons.
I found this book to be full of ideas for me as a teacher. I loved so many of the motivational quotes that she included and have already incorporated them in my studio. I highly recommend this book and cannot wait to meet Bonnie. I think that we are kindred spirits! Thank you for sharing your years of experience and knowledge with the rest of us so that we do not have to keep re-inventing the wheel!
Showcased in "The Best of the Best of the University Presses: Books You Should Know About," June 2010
Selected by librarians of the American Association of School Librarians (AASL) and the Public Library Association (PLA)

"This is an excellent book for any aspiring musician (and the parent). It contains practical advice, for practicing, preparing for a performance, and basic music theory. Part of the music for life series, this book can help anyone become hooked on music!"
—Hilary Albert (PLA)
Fan Mail
It was a great pleasure and an extreme honor meeting you! I wish you could come and speak to ALL flute teachers on your hopes, dreams, laughs, and inspiring stories. You are a bright light that can't be denied...you are electric and eclectic! I am inspired by your book, Making Music And Having A Blast! (I bought that one - AND LOVE IT!!!!!!!!!!!)...I have been "borrowing" some of your philosophies...I hope you don't mind...but you just touched my heart so much in our meeting. You will always be my newest and favorite mentor! Thanks again for your warm smile, your kindness, and your wisdom!
—Cheryl A. Tomczuk, El Paso, Texas
---
We have all truly enjoyed your books. (I think I am going to make it my new graduation present for students.) Your insight and writing style fit right into my studio and style of teaching. Thank you so very much for both books and the impact you will have on students and teachers alike! You are TOTALLY AWESOME!
—Martha Davis, Midland, Texas
---
Making Music And Having A Blast! is a fantastic book—filled with practical advice and real-life scenarios. I wish I could have read this before I regretfully quit my piano lessons.
—Sean Covey, author of the bestselling The 7 Habits of Highly Effective Teens and The 7 Habits of Happy Kids
---
Making Music And Having A Blast! is an entertaining guide full of interesting stories and inspiring examples. This unique book offers real-life advice and the tools you need to achieve your musical dreams.
—Gil Shaham
---
I've been reading your marvelous book, Making Music And Having A Blast! The first thing I did was to go to the chapter on practicing—not for my student's sake, but for mine! It was so inspiring. I am now keeping a practice journal and asking my students to do the same. I also liked the chapters on preparing for performance, conquering stage fright, and memorization.
Your vivid descriptions of the joys and struggles of learning music from the perspective of both student and teacher brings the book to life and makes it fun to read.
You have given music students and their teachers a wealth of wisdom and priceless information. What a gift to us all. Congratulations!
—Dorothea Cook
Violinist/Dalcroze Instructor
Community Music Programs
Stony Brook University, NY
---
Hi Bonnie,
I have to say I love this book even more than the first one. You have such a great way of sharing your thoughts and energy to your students. Also what your students had to share too. What an inspiration you are to me. I have already recommended your book to three of my students this week and I haven't even been home from NY for a full week.
—Celine FERLAND
St. Lucy Orphanage Flute School in Adigrat, Tigray, Ethiopia.
---
Dear Bonnie,
I've received your marvelous book Making Music And Having A Blast! It is an extraordinary achievement. I just want to thank you for sending it and congratulate you!
—Gerard Schwarz, conductor Seattle Symphony
---
Hi Bonnie!
There is definitely a tremendous need for books that speak the truth about being a student or teacher of music in a manner that is easily comprehendible and insightful. You have such a way with thoughts and words and your ideas are just genius.
I gave my students Making Music And Having A Blast! They love their books and I love mine. I carry my book with me and even if I have just a couple of minutes, I take it out and read a couple of pages. I always feel SO positive after reading it and even find myself laughing out loud!!!!! Thank you again!
—Martha Davis
Here's a quick tour of what you'll find inside:
Whether you're a beginning student or have a few years playing experience, Part One gives you a solid foundation in music. You'll learn:
· Ten tips for fast success
· What talent can and can't do for you
· The top mistake new music students make
· How to convince your parents to buy you an instrument
· Where and how to find a quality instrument for a good price
In this section you'll learn:
· What music lessons can do for you
· How to find the "perfect" teacher
· The best way to change teachers without hurting feelings
· Twenty-five ways to be a great student
· How to improve if you don't take lessons
· Why singers need to use the same techniques as instrumentalists to improve
The tips in this section will show you how to spend less time practicing and more time playing. You'll quit dreading practice when you learn:
· Steps to build confidence in yourself
· Why practice can make the difference between getting good and quitting
· What to do if you're sick of practicing
· Ways to fit practice into your busy day
· 20 ways to practice smarter and faster
· 75 ideas to practice differently and not get bored
· How to make your work count with goals
Why bother with boring scales and music theory? You'll find out why in Part Four. This workbook takes you step-by-step through the basics of music theory. Students who master this section will have a solid foundation in music and a good start in their college music courses. You'll feel you have your own tutor when you learn how to:
· Recognize intervals by sight and sound
· Memorize major and minor scales and key signatures
· Build major, minor, augmented and diminished chords
· Analyze chords and realize figured bass
How can listening to classical music make you a better player? Why should anyone be interested in the lives of dead composers? Why should you listen to all genres of music? In this part you'll learn:
· Where to start listening if you don't really know or like classical music
· How to make classical music part of your daily life
· How music changed through time
· The characteristics and composers of the major musical periods
· Great music to start your listening library with my list of favorite pieces
Sure you can finger the notes on your instrument, but are you really making music? Part Six shows you how to learn music faster and more accurately, how to play those notes musically and in tune, and how to memorize them. In this section you'll learn how to:
· Scan the music to sight read it right the first time
· Use music theory, dynamics, articulation and more to make music come alive
· Hear yourself and play in tune
· Memorize pieces and know what to do if you have a brain freeze
Have you ever felt a little weak at the knees before a contest or audition? Most players have! In this section we'll meet that challenge with a step by step method to prepare your music and your performance. You'll learn how to calm negative thoughts or emotions that can interfere with performing your best. And perhaps most important, you'll learn how to put concerts and contests into perspective. Believe it or not, you'll live! You'll look forward to your performances when you know:
· How to prepare for a performance, starting from the moment you receive the piece
· What to do in the weeks, hours, minutes, and even seconds before you perform
· The power of positive self talk
· How to connect with your audience and put them at ease
· How to survive if you mess up.
· What being a winner really means
In this section we'll turn our attention to the inevitable bend in the road. Our "advice column" chapter will teach you how to smooth conflicts with your parents, your teachers, and other music students. Two chapters in this section written directly by students will give you insider advice. You'll know you're not alone when you learn:
· How to ask your parents to support your playing or quit pressuring you to excel
· Strategies for dealing with jealousy
· Steps to take if you feel like quitting
· Tips from kids to help you survive playing through braces
· How other students handled the ups and downs of learning music
· How learning music helps you in other areas of your life
Music is like a delicious meal; it's better when shared with friends. Part Nine shows you how to act on the stage or in the audience. It includes:
· The fun and benefits of playing in band, orchestra, choir, or chamber groups
· The basics of getting a group started and running rehearsals
· What to do if you're bored in band or orchestra without driving your director crazy
· The not so subtle differences between how to act at a classical concert and a rock concert
This section is designed for advanced high school or college players on the path to becoming professionals. You'll learn straight answers to the realities of life as a musician and whether you have what it takes:
· The one and only reason to become a music major
· When and how to prepare to be accepted as a music major
· How to compare colleges and conservatories
· Solid ways to boost your chances of being accepted to the school of your dreams
· Many ways to make music your profession
· The realities of the job market
· What life is like as a professional musician
· How to be a successful musician and a happy person
This is the section you'll turn to again and again when you need to know:
Musical terms
Rhythm information
Tempo markings
Key signatures
Musical periods and composers
Find out more: resources in books and on the web
Excerpt: Chapter 42
What Can I Do If I'm Really Bored in Band or Orchestra?
My band director is really dull and we play the same pieces over and over and he works with the trombones because they never know their part so the rest of us just have to sit there and the drummers just goof around all the time and the music for the flutes is really easy because we are the best section but even half of the flutes don't know which end to blow in and I want to quit but my mom says I have to stick it out because the band needs good players and I made a commitment because I love music but I don't love this because it is so boring and then I start talking to the kid who sits next to me and then I get in trouble. What can I do?"
Okay, okay, enough complaining. This is the reality of ensemble playing, but there are ways to make it a rewarding experience and grow as a musician. When you're bored, try these tips:
Play Extreme Music. Follow the dynamics to the extreme and see how loudly and how softly you can play and still be in tune.

Try Velcro fingers. Can you play with your fingers never leaving the keys?

See how long you can play in one breath. When everyone else breathes every two measures, try to go 4 or 6 or 8 measures in one breath.

Work for your best tone. Pretend you're a contestant in the 1 Million Dollar Tone Contest.

Make a game of sight-reading far ahead. Look at the music and see how far you can play without looking back. Unnerve your conductor by looking right at him all the time.

Practice memorizing the music. Even though your band or orchestra music isn't something you need to know, memorizing it will help you memorize other pieces more easily.

When the band director is working with another section, look at your watch and see how long you can hold your breath. Make it a silent game in your section.

Bring a solo piece you're working on and silently finger it while the director is working with the other sections.

Practice hard so you can be first chair and get all the solos.
Whew!
As you can see, Making Music and Having Fun has the tools and advice you need. Ready to get started? Let's go.