Special Events
Are you interested in a special seminar for music educators? A master class for students? A day camp for young musicians?
These are all in the early planning stages, and I'll let you know more as my plans develop.
In the meantime, please contact me with your own ideas!
Join my E-mail List!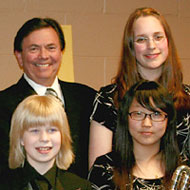 Jerry Schwarz invited 10 of Bonnie's students to perform at Benaroya Hall in a flute choir piece for 11 flutes. It was a challenging and exciting experience!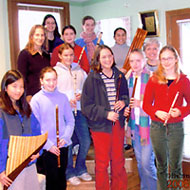 Flutist extraordinaire Darlene Drew, who travels with Disney's production of The Lion King, brought her many exotic flutes to Bonnie's studio in a presentation about the flutes and life in the orchestra.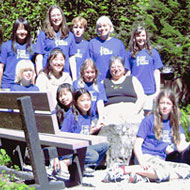 What's better than fun and flutes in the mountains?
Donna Shin, Professor of Flute at the University of Washington (and Bonnie's former student) joins us for three days At Mt Baker for our annual flute retreat.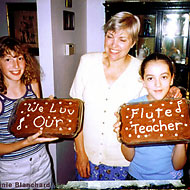 Janna and Munya know the way to their teacher's heart.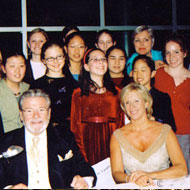 Bonnie's students meet their idols, James and Jeanne Galway.
In their own words…
Working with Bonnie Blanchard's four fantastic high school flutists was a delight… Their ability to integrate with the various idiosyncrasies of the orchestral timbres and rhythms indicated a high level of musical sensitivity and sophistication that I have rarely experienced from that age group. Bravo!
—George Shangrow, Director Seattle Chamber Singers and Orchestra Seattle
I am always deeply impressed with the level of performance in Bonnie Blanchard's studio. Not only are her students at the top of their game, but also they clearly love Bonnie and thrive on her teaching approach.
—Catherine Miller, Vice President, Miyazawa (USA)
Bonnie Blanchard has a rare gift as a profound flute teacher and author. The teaching methods outlined in her books have influenced many award-winning students who have gone on to launch professional careers, either as performers or educators.
—Diane Hsu
I was so impressed with the quality of Bonnie Blanchard's high school flute quartet that I invited them to perform a concerto with the Seattle Symphony. Their technique, tone, intonation and musicality were extraordinary. Bonnie is an inspirational and motivating master teacher.
—Gerard Schwarz, Conductor Seattle Symphony
Every year I hear hundreds of flutists from around the country, and Bonnie Blanchard's students are a cut above. Her unique teaching style produces musicians with excellent playing skills who demonstrate a joy for music. Bonnie Blanchard delivers!
—Jeff Weissman,
President and owner, JB Weissman Music Company