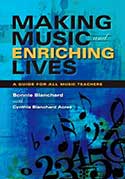 Music for Life Books
Making Music,
Enriching Lives
This is the book that started it all. It's designed with music teachers in mind and can serve as an essential source book.
It's filled with specific instructional techniques you can try with your students. Motivate your students to want to practice. Energize & add creativity to your teaching. Build your studio & get paid what you're worth!
Read on below for a quick tour of its contents and a chapter excerpt.
Learn more about this book:
Overview
We music teachers have a wonderful job! It's thrilling to watch students learn focus and self confidence while developing their potential and their love of music. I'm thankful every day to have found this means of feeding my family and my soul. But teaching does have its challenges—getting kids to practice, charging for make-up lessons, dealing with interfering or reluctant parents, and inspiring students to become successful performers. In Making Music and Enriching Lives I'll share with you my personal journey of teaching music and developing creative solutions that make our jobs more effective and rewarding. No matter if you are a beginning teacher or a master teacher with years of experience, I promise you a fun read where you'll find ways concrete solutions, new ideas and inspiration to make you and your students look forward to your lessons.
How to Use this Book
I've heard from many teachers who told me how they've used Making Music and Enriching Lives.
Teachers with a burning question will turn immediately to the chapter that focuses on their concerns. Other teachers read a chapter every week or every month, armed with a marking pen or a notebook to jot down ideas to use. And then some teachers love a good book with fun stories and read cover to cover.
The day after I sold a book to a teacher at the last Music Teachers National Association convention she came to the booth pretty bleary-eyed.
"I stayed up all night reading your book and got no sleep!" she exclaimed.
So I have been responsible for a few sleepless nights.
Who Should Buy this Book?
Are you a beginning teacher filled with questions?
Do I have what it takes to become a teacher? Do I have what it takes to become an entrepreneur? What do I need to set up a studio? Where do I get students? What should I charge? What's the best policy for handling make-up lessons? How do I gain the respect of students and parents?
Have you been teaching a while but have some problems with motivating students and dealing with parents?
Why don't my students practice? How can I silence the whiners and complainers? How do I handle that mother who drives me crazy?
Are you a successful teacher who would like some new ideas to jazz up your studio?
How do I prevent students who have studied with me a long time from becoming complacent? What psychology can I use to motivate students to practice? Are there creative ways to teach the basics without boring my students? What new examples and stories can I use to get the point across?
Do you sometimes feel overwhelmed or are you starting to feel burned out?
Do I have too many students? Do I have the "wrong" type of students? What can I do to physically make this life easier? What steps can I take to keep my interest alive after all these years? How can I keep healthy and happy so I can continue to teach?
Making Music and Enriching Lives: A Guide For All Music Teachers has the answers.
Who should buy this book?
YOU!
Press Reviews
Editorial Reviews
Strad Magazine, January 2008
"Blanchard has filled the book with lots of good advice... I was intrigued."
---
The Instrumentalist Magazine, October 2007
"Anyone who teaches...will appreciate and benefit from this tome...filled with practical advice... outstanding, with excellent ideas..."
---
Alison Uren, The Flute Magazine, Dec. 2007
"...A comprehensive, detailed, enthusiastic guide ... full of excellent ideas ... much helpful advice.... "
---
Miyazawa Newsletter, 2007
"Provides concrete solutions to difficult situations...helps teachers solve challenges, have lots more fun, and get even more fulfillment from their teaching."
---
Susan Maclagan, January 2008 Flute List and Galway newsletter
"...Sets out to help beginning teachers...and rejuvenate the teaching of those, like myself, who have been teaching for years..."
---
Dr. Rebecca Dunnell, Kansas City Flute Association,Winter 2008 newsletter
"Fabulous... refreshing and affirming... A product of the renowned Indiana University Press, this book is widely available and a wise purchase."
---
Elizabeth Watson, The Gazette, Greater Boston Flute Association, Fall 2007
"...A comprehensive manual for music teachers... packed with ideas for making music a valuable part of each student's experience. At the heart of this book- and it is a big, enthusiastic, and generous heart- is the emphasis on establishing relationships based upon mutual trust and respect." "Blanchard is passionate about teaching...recognizes the importance of music in education, getting the students' families involved and helps the student build a foundation for a life- long relationship with music." "... Well -organized and chock full of tips and strategies, as well as her philosophy on what it means to teach music and instill students with confidence and pride in their accomplishments. This is a book any teacher, new or experienced will find useful and inspiring." "...A powerful and inspiring guide to help the music teacher find his or her own way."
---
From the Publisher

From Lee Galloway, American Music Teachers Magazine Feb/March issue 2008:
"Bonnie Blanchard is a very enthusiastic teacher. Her enthusiasm is infectious and attracts a studio full of excited students who love to practice and experience their lesson as the highlight of their week. Private music teachers who want a successful studio like this will find many ideas here. Also, this book will be inspirational for teachers who may be experiencing a little burnout."
"The first chapter provides a valuable overview, while the second chapter is inspirational in its description of the idea teacher-student relationship. I found great value throughout ...loaded with practical ideas about teaching music, with many tips for memorizing, sight reading, and other essential skills. "
"Part 3, "Tackling Your Toughest Teaching Challenges" takes on beginning students, important differences between boys and girls, adult students, stage fright, and dealing with complaints. Part 4, "Running Your Private Music Studio", has practical ideas for the business side of things, as well as a great chapter about what it means to be a music teacher."
"...Highly entertaining to read...contains a lot of information... I have seen instant improvement in my relationships with some of my students as a result. Blanchard is a noted flute teacher, however the systematic study of this book over time could greatly benefit teachers of all instruments."
Fan Mail
There is definitely a tremendous need for books that speak the truth about being a student or teacher of music in a manner that is easily comprehendible and insightful. You have such a way with thoughts and words and your ideas are just genius. My students have loved their books and I mine. I carry mine with me and even if I have just a couple of minutes, I take it out and read a couple of pages. I always feel SO positive after reading it and even find myself laughing out loud!!!!! Thank you again!
—Martha Davis, Midland, Texas
---
Hi, Bonnie. I just received your book today "Making Music and Enriching Lives," and I just wanted to let you know that it is exactly what I needed in my teaching life at the moment. I've only read the first chapter and have a new enthusiasm for my teaching. I actually do most of what you have suggested with my students—but needed encouragement to continue it.
Many thanks. I am going to thoroughly enjoy working my way through it.
Suzanne Cowen, Australia
---
Here's a quick tour of what you'll find inside:
Click on each heading for details of what's contained in each part of the book.
PART ONE: Enriching Lives
This is the most important section of the book because we all know that teaching is more about inspiration than about facts.
1. Transform Your Teaching
How the Music For Life approach can change your attitude toward teaching and your students' attitude toward their lessons
What they forgot to teach you in school
2. Focus on Relationships First
Why basing your teaching on relationships will make you a better teacher and your students more committed
How to walk that fine line between being the respected teacher and the trusted friend and mentor
What parents can do to help their child and you
Secret ways to "tame" interfering parents
3. Instill Pride and Respect
How to make your studio feel like an elite club with students who feel lucky to have you as their teacher
The results of typecasting your students in a positive way
Subtle hints to teach your students studio manners
4. Show Students Your Commitment to Excellence
Who to turn to if your students don't measure up
How to determine what kind of students you want and what you're willing to do to get them
Why you need to expect more from yourself before you can expect more from your students
How to keep going when it seems like way too much work
5. Promote a Love of Learning and Independence
Why your enthusiasm is more contagious than the flu
How to use the basics to make your students become independent
6. Create an Atmosphere of Achievement
Why you get more when you expect more
Why being a tough teacher is really being a nice teacher and why being just a nice teacher is not being nice at all
7. Attitude is Everything
Steps to help students see themselves as talented from the very beginning
The power of positive self talk
8. Make Practice a Priority
Why and how to turn clock watchers into goal setters
How to jump start procrastinators
What to do when students haven't practiced
9. Increase Success with the Music for Life Two Notebook System
How to save time and your sanity with the Music For Life notebook system
Dramatic ways to write to help them remember
10. Energize Students with Goals
How to set and attain technical, musical, and performance goals
How competition can spur students to higher levels
Why the most important goal is not to win, but to learn
11. Recognize and Reward Results and Effort
Why honesty is the best policy
How and why it's important to notice the bad and the good
12. Foster Happy, Confident Students
Fun ways to spice up your lessons
How to motivate with music and help students embrace your passion
How to focus your teaching with a mission statement
13. Host Special Musical Events
Why social events can help students commit to your studio and stay committed for years
Tips and tricks for fun recitals and parties
PART TWO: Making Music
Not only "how to" but "how to teach" these important technical steps to becoming a skilled musician
14. Use Practice Tricks for Fast Results
How (not) to practice
How to practice
How to get out of the practice room sooner
15. Build Excitement with Musicality
How to teach musicality from the very beginning
Techniques and exercises that allow students the freedom to express their musicality
16. Multiply the Fun with Chamber Music
Why playing chamber music is so important
How to organize and direct ensembles
17. Take the Fear Out of Memorization
Steps to learning how to memorize
How to live through a brain freeze
18. Help Students Become Confident Sight Readers
Why being a good sight reader may be the most important thing we can teach
How to make sight reading fun
Sight reading checklist
PART THREE: Tackling Your Toughest Teaching Challenges
No matter how long you've been teaching or what a fantastic teacher you are, admit it, there are always some problems.
19. In the Beginning
The "best" age to start lessons
The type of teacher beginners need
How to deal with the difference between boy brains and girl brains
20. Make Learning Fun (And Less Painful) for Adults
Why teach adults
How teaching adults is different from teaching younger people
21. Troubleshoot Problems and Turn Around Complaints
They may not just be lazy—possible explanations for underperformers
Determine if the problem is with the instruction
Divide and conquer assignments
If it's not working—do something different!
22. Ready Students for Performance
Why participate in concerts and contest
Rethink the idea of winners and losers
How to prepare a student for a performance
23. Conquer Stage fright
How to take baby steps until the big day
Realize it's not brain surgery
How to get them ready for anything with the recital from hell
24. Ace the Audition
Step-by-step, minute-by-minute advice
What you can learn from disappointment
25. When It's Time to Say, "Good-bye."
How to know when it's time to fire a student
How to say "Good-bye"
*What to do when the shoe is on the other foot
26. Ask the Teacher: Answers to Thorny Teaching Questions
How to get along with students
How to get along with parents
How to get along with other musicians
PART FOUR: Your Private Music Studio
Music teachers would rather think about music than money, but remember, this is a business. This section has ideas for all teachers on how to be a successful entrepreneur. Our book ends with suggestions to keep the teacher happy and healthy.
27. Establish Your Private Studio and Develop Your Business Plan
The facts about being an entrepreneur
How to get started
Where to teach
How to become "famous"
28. Get Paid What You're Worth
How to run your studio as a business
How to price your services and billing
Policy options and advice for make up lessons
Extra ways to earn money through teaching
29. A Life in the Arts
The joys of a musician's life
The pains of a musician's life
30. Make the Teacher's Life Easier
How to take care of yourself so you can do a good job and enjoy what you are doing for years to come
Save time
Save your body
Save your sanity
Excerpt: Chapter 26
Ask the Teacher
Even the best teachers face challenges. I've been there myself and so have the music teacher friends I commiserate with. In this "advice column" for teachers' true-to-life questions, I'll offer practical solutions you can use today. Take heart; you're not alone.
Q: I live in a rural area with a high unemployment rate. Many of my students can barely pay for lessons and some deserving ones can't afford lessons at all. I feel bad for them but don't know how to help without becoming a charity. Besides finding a patron, what can I do to help?
A: How about getting more creative? By teaching group lessons you'll make more money per hour and the students will pay less than for a private lesson. Could you team teach with a talented high school student or beginning teacher? They could teach three out of four lessons for a lower price or could teach the first half-hour of drills and you could teach the second half. You "teammate" could also be the computer. The student could do one half hour of drills and another half hour with you for a lower cost than the regular lesson. You might also entertain the option of trades. I have traded lessons for sewing, cooking (my favorite), yard work, painting, recording, clerical work, and babysitting. I would trade great lessons to anyone who would clean my house!
Q: Time and again my student arrives at his lesson at least fifteen minutes late. How can I get him to be more prompt?
A: Why not adopt the policy of many child care centers? Charge him $5 for every minute late. I'm joking! Don't cheat yourself by allowing him to set your schedule. You're running a business. The ironclad rule: lessons start and end at the prearranged; if you snooze, you lose. When he's late, never get around to the fun solos because of lack of time. .
Q: None of my students or their parents takes lessons very seriously. This town values sports above everything. How can I get them to take music more seriously?
A: Step 1: Choose the three or four students whom you think have the most potential and the most supportive parents. Step 2: Shower them with attention: Invite them to a concert. Take them on a field trip. Place them in an ensemble. Have a music party. Take them out to lunch. Teach them the very best lessons you can. Step 3: Make these committed students the core of your studio. Encourage them to talk to other students and their friends about how fun and rewarding their lessons are. Step 4: Have a recital and show them off. Step 5: Other kids will want to work to be in the "in crowd" too.
Q: One of my students is not making the grade. She rarely practices, never has all her materials, and is not prepared for contests. Her parents can't afford my regular fee. She has a very rough home life with divorced parents who feud and offer little support for the lessons she loves. What should I do?
A: You may not realize the importance of lessons in your student's life. You may be the only adult she can count on who provides a haven of stability in her unstable world. Commit to keeping this needy girl but put her on a different track. Don't enter her in contests but include her in your in-studio recitals. You might spend most of your lesson time talking and listening instead of playing and that's o.k.
Q: My student "cannot" remember key signatures. The repetition is driving me nuts. What can I do to jolt his memory?
A: Start with the basics. Explain how scales are built and how each piece is created from the key signature scale. Then drill, drill, drill in scales. Each time the student plays a piece at home or in the lesson, ask him to first play the tonic scale. When he misses a sharp or flat, asks him to follow these steps: write the sharp or flat symbol in front of the note, play the scale, say the names of cheap replica watches the notes in the measure out loud, play the measure, Once your student understands scales and key signatures, how can you make him more aware? Here's a trick I learned from my husband Don. Don's college roommate, Jim, often appeared angry because he habitually and unconsciously grimaced. Don volunteered to help break Jim's habit by making him acutely aware of when he made the ugly face. Don's not so subtle biofeedback: every time Jim scowled, Don slugged him. Jim turned out to be a fast learner!
Believe it or not, I've adapted and used Don's technique. My eight grade student Soren, a wrestler, could never remember key signatures. I offered to good naturedly "slug" him each time he forgot. Soren once bragged to a friend in band, "I had a really good lesson. She only slugged me three times!"
More subtle ways to increase their concentration: put ten pennies or candies on the music stand and take one away for every key signature mistake. Write with marker pen on their hand for every mistake. Tie a scarf around an elbow that needs to be kept lifted or put a pipe cleaner on an "offending" finger. Do something goofy or surprising. Throw a stuffed animal, ring a bell, make the student do jumping jacks or use my famous squealing rubber chicken! Grabbing his attention will help erase the bad habit, just ask Don.
Make the most of your teaching today
Making Music, Enriching Lives can be your go-to guide for all your teaching challenges. It's filled with practical answers and inspiration to keep you and your students moving ahead. Ready to get started? Let's go.